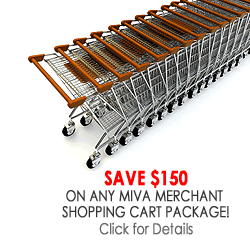 Home > E-Commerce > Miva Merchant Shopping Carts


miva merchant shopping cart design


In our opinion, the Miva Merchant 5 shopping cart is the best and most affordable shopping cart on the web for small to medium sized businesses. Out-of-the-box, it is fully customizable to suit your needs, and a large and active community of aftermarket modules are available for non-standard functions.

There are pages and pages of information available, and a list of features can be downloaded from here.


Standard Miva Merchant features:
Categories, Products, Inventory and Merchandising

Simple interface for adding/removing/editing products using a web broswer (such as Internet Explorer, Safari etc.)
Potential for unlimited products, categories & subcategories
Create detailed product descriptions with text or HTML.
Create user-defined custom fields for each product, such as ISBN, UPC, Manufacturer, etc.
Assign thumbnail and full-size images to each product.
Low Stock and Out of Stock inventory levels for each product.
Display customized inventory level messages for each product or universally.
Hide out-of-stock products from customers.
Receive email notifications for low or out of stock products.
Associate unlimited related products.
Offer upsale products based on order total, items purchased, or both.
Define product characteristics with attributes.
Add additional prices or weight to individual attribute options.
Multiple attribute display types, including drop-down boxes, radio buttons, and text fields.
Use attribute templates to assign sets of attributes to multiple products.
Changes to an attribute template can be copied to all products referencing it.
Set order minimums based on price, quantity, or both.
Display custom message for not meeting order minimum.

Customer Management

Encourage repeat business with customer accounts.
Provide customers easy access to their account details and addresses.
Create price groups to offer special pricing for specific customers.
Use availability groups to offer hidden products to specific customers.

Affiliate Programs

Promote your store by working with affiliates.
Set affiliate commission levels based on order total, traffic referred, or a combination of both.
Online affiliate accounts enable affiliates to see earnings, retrieve store links and banners, and view program agreement.
Track all affiliate earnings and payouts through a simple affiliate management system.

Order Processing

Batch all new orders and run batch reports.
Orders provide customer information, payment and shipping methods, and product details.
Process all orders through your payment gateway remotely.
Order encryption provides increased security for customer payment details.
Generate confirming e-mail messages for customers when orders are placed.
Receive e-mail notifications when new orders are received.
Notification emails can be copied to a third party for drop-shipping, among other uses.

Localization Settings

State-based sales tax and shopper selected sales tax settings available.
Calculate sales tax for Canadian VAT, German VAT, or customize with a generic VAT setting.
Use US currency format or European currency, with conversion rates.
Create any customized currency format.
Specify product weights with customized weight label.
Customizable state and country lists can be modified for use in any part of the world.

Shipping Calculation and Payment Processing

Get automatic shipping rates from UPS, USPS, and FedEx.
Create custom rate tables based on quantity, order total, order weight, and more.
Accept credit cards with a variety of built-in payment gateways, including Authorize.net, VeriSign, CardService International, CyberSource, and many more.
Ability to accept and process credit cards manually.
Compatible with other payment methods, such as PayPal, electronic checks, and COD.
If you have any questions or would like further information,

E-Mail Us or call toll free on (888) 932-1255 today!